---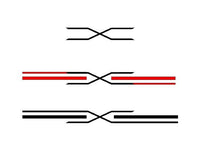 Pinstripe Decal - 1100
1110 Graphics
This "X" pinstripe is often difficult to duplicate. but our design makes it easy. Simply run one stripe, add our design, then run the second stripe.
Our Pinstripe Decals make it easy to add custom designs to vinyl pinstripes on any vehicle.
While these may match pinstripes from a variety of vendors, they are meant to match 3M vinyl pinstripe colors 01, 02, 05, 50, 63 and 85.
Sold in pairs.